Best and Worst Foods for Sensitive Teeth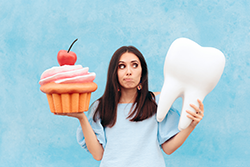 Struggling with sensitive teeth? You're not alone. In fact, nearly 50% of the population has some degree of tooth sensitivity on a regular basis.
Sometimes, sensitive teeth make eating difficult. Below are a few foods that can help you win the sensitive teeth battle, and a few to stay away from.
SAY YES to dairy like cheese, which is high in calcium as well as protein to help strengthen teeth.
PASS on tomato sauce. Surprised? Many tomato sauces are highly acidic, which is problematic for sensitive teeth.
INDULGE in fruits and vegetables high in fiber like apples and carrots. They'll also help your mouth produce important saliva.
SKIP potato chips as they're high in carbs, which can turn into sugar and damage your enamel.
If you're dealing with newly sensitive teeth, it may be time for a visit with us.